NOW AVAILABLE FOR YOU: HISTORY

ON

DEMAND!
Did you want to see a program of mine at a library or lifelong learning center but missed it? Now you can watch my top 5 lectures on your own time! I recorded my absolute fan favorites for you to enjoy. All you need to do is send me an email to anette.isaacs@me.com and let me know which program(s) you would like to see. I will then send you a confidential link and with one click you can enjoy "History on Demand"!
TAKE

ADVANTAGE OF MY INTRODUCTORY OFFER: 1 PROGRAM IS $5 AND ALL 5 ARE ONLY $20.

ALL YOU NEED IS A PAYPAL or Venmo ACCOUNT.
Please understand that this is an offer for individuals only, it is not for organizations. Please contact me for pricing if you are an organization or group.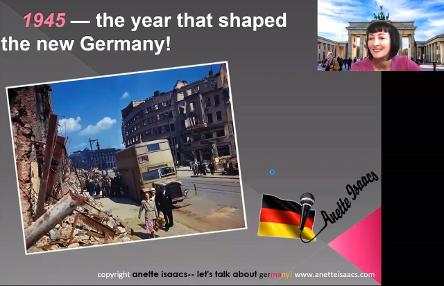 1945 – the year that shaped the new Germany
This year's 75
th
anniversary of the end of World War II presents us with a valuable opportunity to look back at the events that took place in 1945, a year that proved to be pivotal for the transformation of Germany from a brutal belligerent dictatorship to a flourishing and pacifist democracy. Join German Historian Anette Isaacs for a fascinating discussion of how key events like the bombing of Dresden, the Potsdam Conference, and the beginning of the Nuremberg trials played a crucial role in this remarkable process.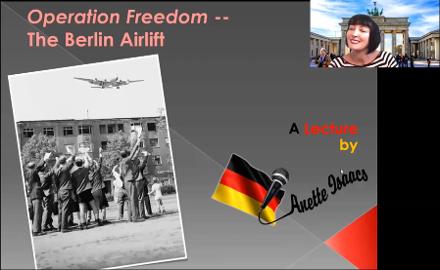 Operation Freedom – The Berlin Airlift
It was one of the greatest adventures in American military history: the Berlin airlift of 1948-49! When Soviet troops closed all access routes to West- Berlin by land, sea, and rail, thus threatening the lives of 2,5 million people and provoking the first major international crisis of the Cold War, American General Lucius D. Clay did not hesitate and proceeded to build a bold and fantastic bridge across the sky, involving 700 planes and 250 000 flights over a period of 14 months! Join German Historian Anette Isaacs for a fascinating discussion of this exciting time in her country's postwar history.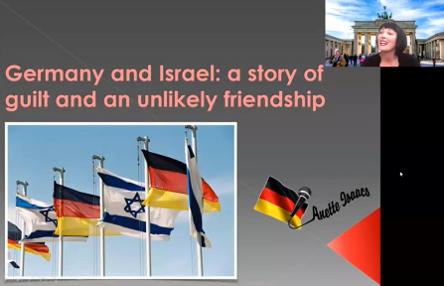 Germany and Israel—a story of Guilt and an unlikely Friendship!

55 years ago, in 1965, Germany and Israel reluctantly entered into diplomatic relations. What at first glance seems to be a rather unlikely relationship –especially in light of the shared history-- has evolved over time into a blossoming friendship and successful economic bond. In order for this to happen Germany had to face its Nazi legacy and subsequent collective guilt. Join German Historian Anette Isaacs as she discusses how her native country has attempted to cope with the guilt of causing the Holocaust and how this painful but necessary process heralded a new era in German- Israeli relations.
The amazing Adventure of Bertha Benz and the History of the German Automobile
The superb reputation of German cars is legendary: Porsche, BMW, AUDI, and Mercedes Benz have millions of fans all over the world and are synonymous with the quality and success of German engineering. But hardly anyone knows that the history of the automobile's origin is, to a great extent, due to Bertha Benz, a young mother of five, who - in a secret attempt to visit her mother - became the first human being ever to drive an automobile over a long distance. Join German Historian Anette Isaacs as she introduces you to Bertha Benz and her exciting and history making adventure of 1888!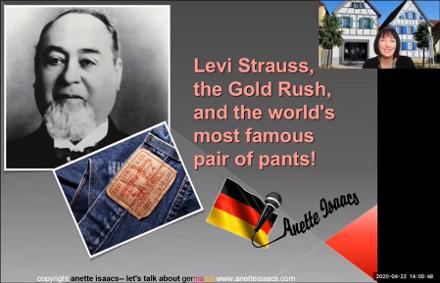 Levi Strauss, the Gold Rush, and the World's most famous pair of pants!
Everybody loves them, everybody wears them: Jeans are no doubt an iconic garment and they tell the legendary story of the American West. But did you know that they were made world famous by an adventurous Bavarian Jew who combined his marvelous business sense with German ingenuity? Join German Historian Anette Isaacs, M.A., for a fascinating journey into the days of the Gold Rush and learn about Levi Strauss and his amazing life!
© Copyright www.anetteisaacs.com