Please click HERE in order to view and download my 2022 flyer with all the current and timely presentations!
Germany 2022 --Embarking on new educational adventures!
As my home country is moving into the post-Merkel era, I am delighted to present a list of all the relevant and timely topics that I am offering in 2022. I can't wait to once again enlighten, educate, and entertain your delightful audiences: either via ZOOM (basically worldwide) or in person (first and foremost in the state of Florida where I currently reside)! I am so excited for my new project on the life and times of Clara Schumann, which would be perfect for your Women's History programming in March!

As you will see if you download my brand-new lecture flyer (please click HERE!), or just scroll through the list below, there are so many engaging and thought provoking topics to talk about-- almost 40, to be precise!
Furthermore, I am also excited about my educational workshops on the delightful subject of TEA! Please click here to read all about it!
As promised, here is a list of my available topics:
commemorating the 60th anniversary of the end of the Eichmann trial in Jerusalem:

Eichmann before Jerusalem - Insights into the mind of a Mass Murderer
Celebrating a very exceptional Woman -- perfect for Women's History Month in March:
The German Virtuosa - Inside the Life and Times of Clara Schumann
another seminal event: the 505th anniversary of Martin Luther publishing his 95thesis -- thus starting the Reformation movement in 1517:

Here I stand - The Life and Times of Martin Luther
John F. Kennedy's 105th birthday is a wonderful opportunity for us to re-visit his epoch-making trip to Berlin!
John F. Kennedy in Berlin -- revisiting a momentous trip
Additional Programs that pertain to the history of the Wall and the Unification:
The Rise and Fall of the Berlin Wall

Germany -- Three Decades after the Unification
Everyday Life in East Germany - A look across the border

On the political stage, Germany's domestic affairs have been in the news quite a bit lately. In order to make sense of it all, I am offering a number of fascinating lectures: current event programs:
brand new: Taking Inventory of Germany's new Traffic Light Coalition
A look back: Germany and the Merkel era!
so timely: The new promised Land -- an update on the Refugees and Migrants in Germany
also available: From Guest Workers to Citizens: the Turkish Minority in Germany
explaining life in modern Germany: Germany: an operating Manual!
timelessly fascinating: Germany and Israel - a story of guilt and an unlikely friendship
for culture lovers: Musikland: Fascinating notes on Germany's abundant musical landscape
also available this year: The End of the Hausfrau? German Women today!
Furthermore, I am delighted by the success of my audience favorites, programs on amazing historical figures:
Ode to Beethoven - the Man behind the Music
1945 -- the year that shaped the new Germany
Operation Freedom - The Berlin Airlift

The Woman behind the Teddy Bear -- the awe-inspiring story of Margarete Steiff
The amazing adventure of Bertha Benz and the history of the German automobile

Levi Strauss, the Gold Rush, and the world's most famous pair of pants!
The tainted legacy of Richard Wagner
Reflections on 250 years of German American Relations
Prussia's Glory: The Hohenzollern Dynasty!

"Mad " Ludwig of Bavaria: Inside the Mind and Life of Germany's Fairytale King
Richard Wagner and King Ludwig of Bavaria: Between Music and Madness!
Frederick the Great --Exploring the Life and Times of Germany's King of Kings!

Always an enchanting topic, but, of course, especially suitable in the Fall:
Culinaria Germania-- the delicious dish on German Food

Germany's liquid bread -- a refreshing look at the history of Beer!
On a much more serious note: Several of my programs are dealing with Nazi Germany and Jewish Life & Remembrance:

The Germans and their Fuehrer: Insights into a mutual obsession
Between Normality and Terror - Everyday Life in Nazi Germany
Silent Heroes: the German Resistance Movement.

The Land of the Perpetrators: The Question of German Guilt
Never Forget: Remembering the Holocaust in Berlin and Germany
Nazi Hunter Fritz Bauer - A Heroic Story!
These and more topics are available for you and your audiences this year! If you would like to see all current 2022 lectures and lecture descriptions at a glance, please click HERE!
Please visit the page "Jewish Interest Programs" or click HERE in order to see all 12 programs that I am offering this year.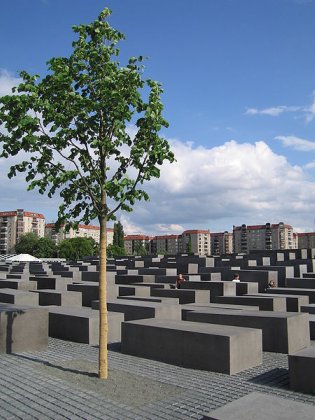 (Photo: Holocaust Memorial in Berlin)
Book now for dates in Spring and Summer of 2022!
For your convenience, you can download and print my current Presentation Flyer by clicking here!
Please also kindly note: in addition to my lecturing I also own A&M Tours, a service providing unique, tailor-made educational travel experiences for groups and organizations! (www.artandmusicingermany.com). Please consider letting me take your patrons, members, residents, colleagues, or clients on a fabulous educational trip to Germany! Contact me for pricing and itineraries!
copyright anette isaacs--let's talk about germany!, 2022