Newsflash: As you all know, next year will be the 30th anniversary of the Fall of the Berlin Wall!
This seminal event calls for an appropriate celebration and that is why I am not only offering one, but THREE different presentations that are already bookable for 2019:
The Rise and Fall of the Berlin Wall
Everyday Life in East Germany -- A look across the Border
and brand new: Berlin at 30 -- Celebrating the Fall of the Wall! This program even comes with a study tour to Berlin in May of 2019! Read all about the trip here: http://www.artandmusicingermany.com/berlin-at-30-study-tour.php

++++++++++++++++++++++++++++++++++++++++++++++++++++++++++

Please click HERE in order to view and download my 2018 flyer with all the current and timely presentations!

Dear Friends of Let's talk about Germany,
2018 is, once again, an important and busy year for all things German! For starters, we will be celebrating the 70th anniversary of the unforgettable Berlin Airlift of 1948 which is still considered to be the greatest relief operation in aviation history! My program Operation Freedom - The Berlin Airlift pays homage to the thousands of American and British Airmen and Women who made this tremendous event happen. In addition to that, the 55th anniversary of President John F. Kennedy's seminal visit to Berlin in 1963 and the Airlift anniversary provide us with the perfect opportunity to look at the state of German -American relations! (the program titles are: John F. Kennedy in Berlin: Revisiting a momentous trip! and Reflections on 250 years of German American Relations!)
On the political stage, it is has been three years since Chancellor Merkel opened the German borders to about one Million refugees. My program Revisiting the Refugee Crisis in Germany three years later will provide a fascinating update on the current situation. We also are looking at the 100th anniversary of Women's Suffrage in Germany which is celebrated in my new presentation The End of the Hausfrau? German Women today!
Furthermore, I am delighted by the success of my programs Margarete Steiff and the Teddy Bear and The Life and Times of Martin Luther which have been received so enthusiastically by Chicago audiences! Another fan favorite is, of course, my program about Bertha Benz and the invention of the Automobile, which will be especially timely this year because 2018 will be the 130th anniversary of her amazing adventure!
On a much more serious note, 2018 will be the 80th anniversary of the Night of Broken Glass (Kristallnacht) and the 85th anniversary of Hitler's rise to power. My programs The Germans and their Fuehrer: Insights into a mutual obsession, Remembering the Holocaust in Berlin and Germany, and New Germany-- European Leader with a difficult legacy! are dealing with these trying issues. As you might now, Jewish Life and Remembrance and the history of the Third Reich are two very important subjects in my work as a historian. Please click here to see a list of all 11 available programs that explore this difficult period in German History. Coming in the Fall of 2018 I will premier my brand new program on the Silent Heroes, the German Resistance Movement.
These are just a few of the many fascinating and thought provoking lectures and presentations that are available for you and your audiences this year!

Please also kindly note: in addition to my lecturing I also own A&M Tours, a service providing unique, tailor-made educational travel experiences for groups and organizations! (www.artandmusicingermany.com). Please consider letting me take your patrons, members, residents, colleagues, or clients on a fabulous educational trip to Germany! Contact me for pricing and itineraries!
If you would like to see all current 2018 lectures and lecture descriptions at a glance, please click here!
If you would rather like to browse the lectures according to themes and topics, I invite you to take a look and click on
the Lecture Titles below:
Such an important event:

--Operation Freedom: The Berlin Airlift
A brand new program, perfect for all occasions, surely bound to become a fan favorite:
Perfect for Women's History Month in March of 2018 and basically year round:
--The Amazing Adventure of Bertha Benz and the History of the German Automobile
--The Woman behind the Teddy Bear-- The awe-inspiring story of Margarete Steiff!
Programs featuring iconic German Royals:

--Prussia's Glory: The Hohenzollern Dynasty! (commemorating the 100th anniversary of the abdication of Kaiser Wilhelm II)
--"Mad " Ludwig of Bavaria: Inside the Mind and Life of Germany's Fairytale King
--Richard Wagner and King Ludwig of Bavaria: Between Music and Madness!
-- Frederick the Great --Exploring the Life and Times of Germany's King of Kings!
New Programs focusing on Germany's cultural world:
--Musikland - fascinating notes on Germany's abundant musical landscape!
--The Tainted Legacy of Richard Wagner

New Programs dealing with current events:
--Always an enchanting topic, but, of course, especially suitable in the Fall:
Culinaria Germania-- the delicious dish on German Food
Please visit the page "Jewish Interest Programs" or click HERE in order to see all 11 programs that I am offering this year.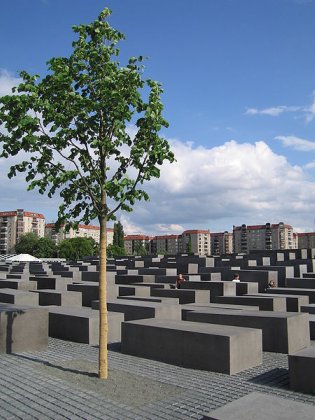 (Photo: Holocaust Memorial in Berlin)
Book now for dates in Spring and Summer of 2018!
For your convenience, you can download and print my
current Presentation Flyer by clicking here!

copyright anette isaacs--let's talk about germany!, 2018