Please note: While we are all becoming experts in social distancing, I am delighted to say that I am now offering my classes via ZOOM or SKYPE or whatever other platform you are comfortable with! Please contact me for details! And tell your program organizers that this E-learning option is available! I am looking forward to educating you all through our PCs, Laptops and Ipads!
Please see my upcoming Appearances and Speaking Engagements here:

If you would like to know more about Anette Isaacs' ability as a presenter, please click here! For a list of all current and timely lectures, please click here!
Following is a list of ZOOM events that have already been scheduled:

-Monday, January 18th at 6 p.m. Mountain Time (7 p.m. Central Time): From Occupation to Unification: Germany's momentous transformation. for MOLLI (the Osher Institute of Lifelong Learning for the University of Montana) This is a recurring meeting for 5 more weeks.
(This is a free program for the public: you can register for this at the library's webiste)
many more dates to come.......
Please note: the Face to Face presentations have been suspended for the time being!
The following appearances have been scheduled so far:

stay tuned for many more announcements in the next days, weeks and months!
Don't miss it!
See you there!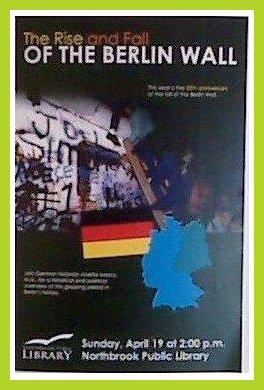 (photo: announcement poster at the Northbrook Public Library, April 2009)
Anette at the German American Heritage Center in Davenport, Iowa: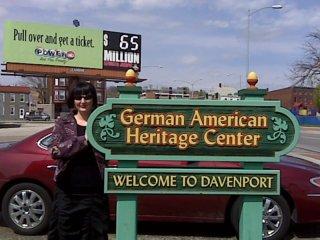 The German American Heritage Center was celebrating our event by putting their remains of the Berlin Wall on display for all attendees to see and touch! In the photo below we see part of the wide cylindrical pipes that topped the Wall to prevent an easy grip.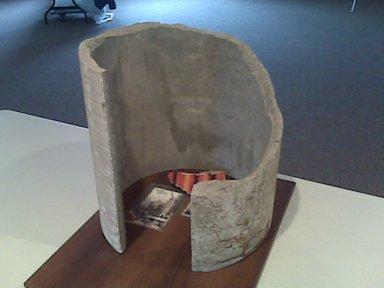 -Tuesday, October 22nd, 2019 at 1 p.m.: Berlin at 30! Celebrating the Fall of the Wall at Harper College LLI (Lifelong Learning Institute) in Palatine, IL

+++++++++++++++++++++++++++++++++++++++++++++++++++++++++++
+++++++++++++++++++++++++++++++++++++++++++++++++++++++++++++++++++
copyright anette isaacs--let's talk about germany!, 2020