anette isaacs - let's talk about germany!
and New York based Group IST proudly present:
A Study Tour to Berlin and Potsdam
TAILOR MADE FOR YOUR CLUB OR ORGANIZATION!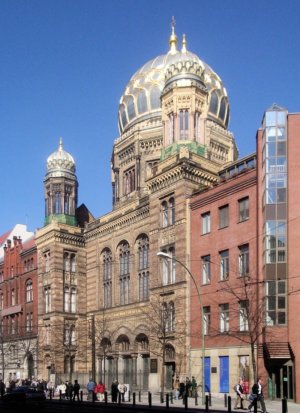 "Never Forget"-- Remembering the Shoah in Berlin and Potsdam"
A study tour commemorating the 70th Anniversary of the Wannsee Conference, 1942- 2012
2012 marks the 70th anniversary of the Wannsee Conference, where the final solution, the annihilation of Europe's and Russia's Jewry, was planned and orchestrated in an elegant Villa outside of Berlin. 2012 is also the 60th anniversary of the Luxembourg Agreement where the Federal Republic of Germany (FRG), led by Chancellor Konrad Adenauer, took over responsibility for the consequences of Nazi Germany's horrendous Genocide.
Today´s Germany could not be more different from the megalomaniac Third Reich, but it is still indelibly and irreversibly connected to the past and to the atrocities committed by previous generations.
During our weeklong stay in the German capital Berlin we will discuss how the German nation has attempted to cope with the guilt of causing the Shoah. Furthermore, a detailed on- site exploration of the varied Memorial Landscape in Berlin, from the very famous Peter Eisenmann field of Stele, the Villa Wannsee Memorial Center, and the Jewish Museum, designed by Daniel Libeskind, to much lesser known art projects, monuments and memorials, will shed light on intriguing artistic representations of the concept of Remembrance in the land of the perpetrators.
German Historian and Lecturer Anette Isaacs, supported by her staff of Historians, Art Historians and Experts will personally lead this tour.
INCLUDED IN THE STUDY TOUR ARE:
►7 nights in a 4-Star Hotel in downtown Berlin, including Breakfast and several Lunches and Dinners
►City Bus Tour of Berlin with emphasis on Architecture and Memorialization
►Four fascinating Lectures by Anette Isaacs
►Guided tours of:
-The Jewish Museum (Libeskind)
-The Memorial to the Murdered Jews of Europe (Eisenmann)
-The Villa Wannsee
► Walking Tour, Jewish Berlin and the various forms of Memorialization.
►On site Exploration of a variety of Memorials.
►EXTRACURRICULAR ACTIVITIES include an Excursion to Potsdam with a guided tour of Sanssouci and Cecilienhof Castles and a Beethoven Symphony Concert in Berlin!
This is a sample itinerary for your study tour:
DAY BY DAY ITINERARY

Day 1: Depart US from Chicago, Illinois to Berlin, Germany.
Day 2: Arrive at Berlin's Tegel airport. You will be welcomed at the airport by an IST representative! Transfer to your BERLIN MARK HOTEL by either bus or taxi. After you checked into the BERLIN MARK HOTEL, take your time to either relax in your hotel room or explore the neighborhood. Early afternoon: Orientation Walk and Orientation Meeting: Anette Isaacs, Historian and IST expert will familiarize you with your program in Berlin and Potsdam. The evening will be rounded off by a delicious WELCOME DINNER at a local restaurant. (D)
Day 3: After enjoying a wonderful breakfast at your Mark Hotel, attend a fascinating lecture by Anette Isaacs: "The Land of the Perpetrators: the Question of German Guilt." Lunch today will be in a local restaurant in walking distance of your hotel. After Lunch, enjoy a comprehensive city bus tour through Berlin with an emphasis on architecture and the process of memorialization. You will also be introduced to all the important sights that Berlin has to offer: among them are the Brandenburg Gate, the Charlottenburg Castle, the Mitte District, Unter den Linden and the Kurfuerstendamm. Evening at leisure, independent Dinner. (B,L)
Day 4: Today starts with a moving presentation by Anette Isaacs: "Never Forget: Holocaust Remembrance in Germany". After an independent Lunch, you will take a private bus to the Mitte district of Berlin where you will participate in an exclusive walking tour of "Jewish Berlin". On this field trip you will also study a variety of memorials that can be found in former East Berlin. After the tour you are free to explore this fascinating area of the German capital on your own. You could visit some Museums at Museum Island, maybe the Pergamon Museum or the Neues Museum, which houses the bust of Egyptian Queen Nefertiti! Evening at leisure, independent Dinner. (B)
Day 5: Today you will pay a visit to the Memorial for the Murdered Jews of Europe, also called Holocaust Memorial, which was designed by New York architect Peter Eisenmann. This moving and striking memorial was completed in 2005 and it has become one of the most visited sights in the German capital. It is incredibly impressive: A 205 300 square foot area is covered with 2700 stelae made from high quality, self compacting concrete. The average weight on a stele is approximately 8 tons. They vary in height, the lowest is two feet and the highest thirteen feet high. We will also tour the information center below the monument which has been educating more than five million visitors in the past seven years. After Lunch at a local restaurant, spend the afternoon exploring and discussing the impressive memorial installations of the Bavarian Quarter in Berlin's district of Schoeneberg and also the memorial ensemble at the Grunewald Train Station. Enjoy your independent Dinner and attend a fascinating evening lecture by Anette Isaacs: "The Long Road "home": Returning to Germany after the Shoah" (B,L)
Day 6: Since this year marks the 70th anniversary of the infamous Wannsee Conference, today you will visit and tour the House of the Wannsee Conference Memorial Center. Here, in January of 1942, what would later become known as the "final solution" was masterminded and orchestrated by such notorious Nazis such as Eichmann and Heydrich. You will meet with an expert from the Memorial Center and discuss the importance of this Museum in contemporary Holocaust education in Germany. You will then continue on to neighboring Potsdam and spend the afternoon exploring both the city and also two important castles: Sanssouci castle, the summer home of Frederick the Great, and Cecilienhof castle, where in the summer of 1945 the Potsdam Conference took place and where Stalin, Churchill and Truman discussed Germany's post war fate. Back in Berlin, enjoy your independent Dinner and take advantage of the so called "Berliner Museum Thursdays": every Thursday, many of the major Museums (for example: Gemaeldegalerie, Pergamon Museum, Museum Island) are open until 10 p.m. (B,L)
Day 7: Today you will dedicate yourself to the concept of remembrance and continuity by visiting the breathtaking Jewish Museum, designed by Daniel Libeskind! Without a doubt, the Jewish Museum is considered one of the most daring and exciting buildings of the last decade. After a guided tour by the Museum staff, take your time and explore the museum at your own pace. You can also enjoy an independent lunch at the Museum restaurant. Your afternoon will be at leisure in order to allow for utmost flexibility in your planning. Tonight you will delve down into Berlin's amazing music world and attend a performance of Beethoven's world famous fifth Symphony at the Komische Oper Berlin. (B,D)
Day 8: In her lecture today Anette Isaacs will investigate the very fascinating relationship between Germany and Israel: "Germany and Israel: a Story of Guilt and an unlikely friendship". You can decide how you want to spend your last afternoon in Berlin: whether you want to visit some more Museums or go on a shopping spree, or take a boat tour on the river Spree, or just relax in one of the many wonderful coffee houses—the possibilities are endless. You will round off the day and your study tour with a delicious Dinner at a local restaurant. (B,D)
Day 9: After breakfast, leave your Mark Hotel for a short transfer to the Airport for your flight back to the USA. (B)